About: Raghda Abdelmaksoud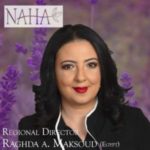 [ratings id="7155"]
Classes Handling
Topics Handling
| Course Name | Lesson Name | Complexity | Length |
| --- | --- | --- | --- |
| Certified Aromatherapist Level 1 | Peppermint – Mentha x piperita | | |
| Clinical Aromatherapist Level 2 | 20 Essential Oils Profiles | | |
| Clinical Aromatherapist Level 2 | Essential oils for the reproductive system | | |
| Clinical Aromatherapist Level 2 | Essential oils for the circulatory system | | |
| Clinical Aromatherapist Level 2 | Essentia oils & the nervous System | | |
| Clinical Aromatherapist Level 2 | 4.39 Violet | | |
| Clinical Aromatherapist Level 2 | 4.38 Thyme | | |
| Clinical Aromatherapist Level 2 | 4.37 Tagete | | |
| Clinical Aromatherapist Level 2 | 4.36 Pine | | |
| Clinical Aromatherapist Level 2 | 4.35 Sage | | |
| Clinical Aromatherapist Level 2 | 4.34 Spearmint | | |
| Clinical Aromatherapist Level 2 | 4.33 Sandalwood | | |
| Clinical Aromatherapist Level 2 | 4.32 Rose | | |
| Clinical Aromatherapist Level 2 | 4.31 Palmarosa | | |
| Clinical Aromatherapist Level 2 | 4.30 Petitgrain | | |
| Clinical Aromatherapist Level 2 | 4.29 Oregano | | |
| Clinical Aromatherapist Level 2 | 4.28 Neroli | | |
| Clinical Aromatherapist Level 2 | 4.27 Naiouli | | |
| Clinical Aromatherapist Level 2 | 4.26 Mellissa | | |
| Clinical Aromatherapist Level 2 | 4.25 Myrtle | | |
| Clinical Aromatherapist Level 2 | 4.24 Litsea | | |
| Clinical Aromatherapist Level 2 | 4.23 Myrrh | | |
| Clinical Aromatherapist Level 2 | 4.22 Lemon Grass | | |
| Clinical Aromatherapist Level 2 | 4.21 Laurel | | |
| Clinical Aromatherapist Level 2 | 4.20 Chamomile | | |
| Clinical Aromatherapist Level 2 | 4.19 Ginger | | |
| Clinical Aromatherapist Level 2 | 4.18 Fragonia | | |
| Clinical Aromatherapist Level 2 | 4.17 Fennel | | |
| Clinical Aromatherapist Level 2 | 4.16 Franckencense | | |
| Clinical Aromatherapist Level 2 | 4.15 Davana | | |
| Clinical Aromatherapist Level 2 | 4.14 Cardamom | | |
| Clinical Aromatherapist Level 2 | 4.13 Carrot seed Oil | | |
| Clinical Aromatherapist Level 2 | 4.12 Citronella | | |
| Clinical Aromatherapist Level 2 | 4.11 Clove | | |
| Clinical Aromatherapist Level 2 | 4.10 Cedar wood Atlas | | |
| Clinical Aromatherapist Level 2 | 4.9 Coriander | | |
| Clinical Aromatherapist Level 2 | 4.8 Boronia | | |
| Clinical Aromatherapist Level 2 | 4.7 Black Spruce | | |
| Clinical Aromatherapist Level 2 | 4.6 Balsam copiaba | | |
| Clinical Aromatherapist Level 2 | 4.5 Bitter Orange | | |
| Clinical Aromatherapist Level 2 | 4.4 Black Pepper | | |
| Clinical Aromatherapist Level 2 | 4.3 Benzoin | | |
| Clinical Aromatherapist Level 2 | 4.2 Bergamot | | |
| Clinical Aromatherapist Level 2 | 4.1 Blue Tansy Tanacetum annum | | |
| Clinical Aromatherapist Level 2 | Essential Oils for Stress | | |
| Clinical Aromatherapist Level 2 | Chakras | | |
| Clinical Aromatherapist Level 2 | Holistic Approach of Aromatherapy | | |
| Clinical Aromatherapist Level 2 | Thank you | | |
| Clinical Aromatherapist Level 2 | Aromatherapy Business Practice | | |
| Clinical Aromatherapist Level 2 | Resources | | |
| Clinical Aromatherapist Level 2 | NAHA CODE OF ETHICS | | |
| Clinical Aromatherapist Level 2 | 26.6 Maternal Changes During Pregnancy, Labor, and Birth | | |
| Clinical Aromatherapist Level 2 | 26.5 Physiology of Arousal and Orgasm | | |
| Clinical Aromatherapist Level 2 | 26.4 Physiology of the Male Sexual System | | |
| Clinical Aromatherapist Level 2 | 26.3 Physiology of the Female Sexual System | | |
| Clinical Aromatherapist Level 2 | 26.2 Development of Sexual Anatomy | | |
| Clinical Aromatherapist Level 2 | 26.1 Anatomy of Reproductive Systems | | |
| Clinical Aromatherapist Level 2 | Essential oils for the Reproductive system | | |
| Clinical Aromatherapist Level 2 | Module 26 Reproductive system | | |
| Clinical Aromatherapist Level 2 | 26.9 Disorders of Acid-Base Balance | | |
| Clinical Aromatherapist Level 2 | 25.8 The Urinary System and Homeostasis | | |
| Clinical Aromatherapist Level 2 | 25.7 Urine Transport and Elimination | | |
| Clinical Aromatherapist Level 2 | 25.6 Physiology of Urine Formation: Regulation of Fluid Volume and Composition | | |
| Clinical Aromatherapist Level 2 | 25.5 Physiology of Urine Formation: Medullary Concentration Gradient | | |
| Clinical Aromatherapist Level 2 | 25.4 Physiology of Urine Formation: Tubular Reabsorption and Secretion | | |
| Clinical Aromatherapist Level 2 | 25.3 Physiology of Urine Formation: Glomerular Filtration | | |
| Clinical Aromatherapist Level 2 | 25.2 Microscopic Anatomy of the Kidney: Anatomy of the Nephron | | |
| Clinical Aromatherapist Level 2 | 25.1 Internal and External Anatomy of the Kidney | | |
| Clinical Aromatherapist Level 2 | Module 25. The Urinary System | | |
| Clinical Aromatherapist Level 2 | 24.7 Nutrition and Diet | | |
| Clinical Aromatherapist Level 2 | 24.6 Energy and Heat Balance | | |
| Clinical Aromatherapist Level 2 | 24.5 Metabolic States of the Body | | |
| Clinical Aromatherapist Level 2 | 24.4 Protein Metabolism | | |
| Clinical Aromatherapist Level 2 | 24.3 Lipid Metabolism | | |
| Clinical Aromatherapist Level 2 | 24.2 Carbohydrate Metabolism | | |
| Clinical Aromatherapist Level 2 | 24.1 Overview of Metabolic Reactions | | |
| Clinical Aromatherapist Level 2 | Module 24. Metabolism and Nutrition | | |
| Clinical Aromatherapist Level 2 | 23.7 Nutrition and Diet | | |
| Clinical Aromatherapist Level 2 | 23.6 Energy and Heat Balance | | |
| Clinical Aromatherapist Level 2 | 23.5 Accessory Organs in Digestion: The Liver, Pancreas, and Gallbladder | | |
| Clinical Aromatherapist Level 2 | 23.4 The Stomach | | |
| Clinical Aromatherapist Level 2 | 23.3 The Mouth, Pharynx, and Esophagus | | |
| Clinical Aromatherapist Level 2 | 23.2 Digestive System Processes and Regulation | | |
| Clinical Aromatherapist Level 2 | 23.1 Overview of the Digestive System | | |
| Clinical Aromatherapist Level 2 | Module 23 . Digestive system Licensed | | |
| Clinical Aromatherapist Level 2 | Essential Oils for Respiratory Conditions | | |
| Clinical Aromatherapist Level 2 | Respiratory System Diseases | | |
| Clinical Aromatherapist Level 2 | 22.7 Embryonic Development of the Respiratory System | | |
| Clinical Aromatherapist Level 2 | 22.6 Modifications in Respiratory Functions | | |
| Clinical Aromatherapist Level 2 | 22.5 Transport of Gases | | |
| Clinical Aromatherapist Level 2 | 22.4 Gas Exchange | | |
| Clinical Aromatherapist Level 2 | 22.3 The Process of Breathing | | |
| Clinical Aromatherapist Level 2 | 22.2 The Lungs | | |
| Clinical Aromatherapist Level 2 | 22.1 Organs and Structures of the Respiratory System | | |
| Clinical Aromatherapist Level 2 | Module 22. The Respiratory System | | |
| Clinical Aromatherapist Level 2 | 21.7 Transplantation and Cancer Immunology | | |
| Clinical Aromatherapist Level 2 | 21.6 Diseases Associated with Depressed or Overactive Immune Responses | | |
| Clinical Aromatherapist Level 2 | 21.5 The Immune Response Against Pathogens | | |
| Clinical Aromatherapist Level 2 | 21.4 The Adaptive Immune Response: B-lymphocytes and Antibodies | | |
| Clinical Aromatherapist Level 2 | 21.3 The Adaptive Immune Response: T lymphocytes and Their Functional Types | | |
| Clinical Aromatherapist Level 2 | 21.2 Barrier Defenses and the Innate Immune Response | | |
| Clinical Aromatherapist Level 2 | 21.1 Anatomy of the Lymphatic and Immune Systems | | |
| Clinical Aromatherapist Level 2 | Module 21 . Lymphatic and Immune System | | |
| Clinical Aromatherapist Level 2 | 20.6 Development of Blood Vessels and Fetal Circulation | | |
| Clinical Aromatherapist Level 2 | 20.5 Circulatory Pathways | | |
| Clinical Aromatherapist Level 2 | 20.4 Homeostatic Regulation of the Vascular System | | |
| Clinical Aromatherapist Level 2 | 20.3 Capillary Exchange | | |
| Clinical Aromatherapist Level 2 | 20.2 Blood Flow, Blood Pressure, and Resistance | | |
| Clinical Aromatherapist Level 2 | 20.1 Structure and Function of Blood Vessels | | |
| Clinical Aromatherapist Level 2 | Module 20. Blood Vessels and Circulation | | |
| Clinical Aromatherapist Level 2 | 19.5 Development of the Heart | | |
| Clinical Aromatherapist Level 2 | 19.4 Cardiac Physiology | | |
| Clinical Aromatherapist Level 2 | 19.3 Cardiac Cycle | | |
| Clinical Aromatherapist Level 2 | 19.2 Cardiac Muscle and Electrical Activity | | |
| Clinical Aromatherapist Level 2 | 19.1 Describe the location of the heart and its internal and external features | | |
| Clinical Aromatherapist Level 2 | Module 19. The Heart | | |
| Clinical Aromatherapist Level 2 | 18.6 Blood Typing | | |
| Clinical Aromatherapist Level 2 | 18.5 Hemostasis | | |
| Clinical Aromatherapist Level 2 | 18.4 Leukocytes and Platelets | | |
| Clinical Aromatherapist Level 2 | 18.3 Erythrocytes | | |
| Clinical Aromatherapist Level 2 | 18.2 Production of the Formed Elements | | |
| Clinical Aromatherapist Level 2 | 18.1 Functions of Blood | | |
| Clinical Aromatherapist Level 2 | Module 18 Cardiovascular system | | |
| Clinical Aromatherapist Level 2 | 17.11 Development and Aging of the Endocrine System | | |
| Clinical Aromatherapist Level 2 | 17.10 Organs with Secondary Endocrine Functions | | |
| Clinical Aromatherapist Level 2 | 17.9 The Pancreas | | |
| Clinical Aromatherapist Level 2 | 17.8 Gonadal and Placental Hormones | | |
| Clinical Aromatherapist Level 2 | 17.7 The Pineal Gland | | |
| Clinical Aromatherapist Level 2 | 17.6 The Adrenal Glands | | |
| Clinical Aromatherapist Level 2 | 17.5 The Parathyroid Glands | | |
| Clinical Aromatherapist Level 2 | 17.4 The Thyroid Gland | | |
| Clinical Aromatherapist Level 2 | 17.3 The Pituitary Gland and Hypothalamus | | |
| Clinical Aromatherapist Level 2 | 17.2 Hormones | | |
| Clinical Aromatherapist Level 2 | 17.1 An Overview of the Endocrine System | | |
| Clinical Aromatherapist Level 2 | Module 17. Endcorine System | | |
| Clinical Aromatherapist Level 2 | 16.4 Drugs that Affect the Autonomic System | | |
| Clinical Aromatherapist Level 2 | 16.3 Central Control | | |
| Clinical Aromatherapist Level 2 | 16.2 Autonomic Reflexes and Homeostasis | | |
| Clinical Aromatherapist Level 2 | 16.1 Divisions of the Autonomic Nervous System | | |
| Clinical Aromatherapist Level 2 | Module 16. The Autonomic Nervous System | | |
| Clinical Aromatherapist Level 2 | 15.5 Vision | | |
| Clinical Aromatherapist Level 2 | 15.4 Equilibrium | | |
| Clinical Aromatherapist Level 2 | 15.3 Hearing | | |
| Clinical Aromatherapist Level 2 | 15.2 Smell | | |
| Clinical Aromatherapist Level 2 | 15.1 Taste | | |
| Clinical Aromatherapist Level 2 | Module 15 The Special Senses | | |
| Clinical Aromatherapist Level 2 | 14.5 Sensory and Motor Pathways | | |
| Clinical Aromatherapist Level 2 | 14.4 The Spinal Cord | | |
| Clinical Aromatherapist Level 2 | 14.3 The Brain and Spinal Cord | | |
| Clinical Aromatherapist Level 2 | 14.2 Blood Flow the meninges and Cerebrospinal Fluid Production and Circulation | | |
| Clinical Aromatherapist Level 2 | 14.1 The Neural Tube | | |
| Clinical Aromatherapist Level 2 | Module 14 .The Central Nervous System | | |
| Clinical Aromatherapist Level 2 | 13.7 The Cranial Nerve Exam | | |
| Clinical Aromatherapist Level 2 | 13.6 Testing the Spinal Nerves (Sensory and Motor Exams) | | |
| Clinical Aromatherapist Level 2 | 13.5 Ventral Horn Output and Reflexes | | |
| Clinical Aromatherapist Level 2 | 13.4 Relationship of the PNS to the Spinal Cord of the CNS | | |
| Clinical Aromatherapist Level 2 | 13.3 Spinal and Cranial Nerves | | |
| Clinical Aromatherapist Level 2 | 13.2 Ganglia and Nerves | | |
| Clinical Aromatherapist Level 2 | 13.1 Sensory Receptors | | |
| Clinical Aromatherapist Level 2 | Module 13 .The Peripheral Nervous System | | |
| Clinical Aromatherapist Level 2 | 12.5 The Action Potential | | |
| Clinical Aromatherapist Level 2 | 12.4 Communication Between Neurons | | |
| Clinical Aromatherapist Level 2 | 12.3 The Function of Nervous Tissue | | |
| Clinical Aromatherapist Level 2 | 12.2 Nervous Tissue | | |
| Clinical Aromatherapist Level 2 | 12.1 Structure and Function of the Nervous System | | |
| Clinical Aromatherapist Level 2 | Module 12 Nervous System | | |
| Clinical Aromatherapist Level 2 | 11.4 Identify the skeletal muscles and give their origins, insertions, actions and innervations | | |
| Clinical Aromatherapist Level 2 | 11.3 Explain the criteria used to name skeletal muscles | | |
| Clinical Aromatherapist Level 2 | 11.2 Explain the organization of muscle fascicles and their role in generating force | | |
| Clinical Aromatherapist Level 2 | 11.1 Describe the roles of agonists, antagonists and synergists | | |
| Clinical Aromatherapist Level 2 | Yoga | | |
| Clinical Aromatherapist Level 2 | Essential Oils for Muscular System Diseases | | |
| Clinical Aromatherapist Level 2 | Muscular System Diseases | | |
| Clinical Aromatherapist Level 2 | Module 11. The Muscular System | | |
| Clinical Aromatherapist Level 2 | 10.8 Development and Regeneration of Muscle Tissue | | |
| Clinical Aromatherapist Level 2 | 10.7 Smooth Muscle Tissue | | |
| Clinical Aromatherapist Level 2 | 10.6 Exercise and Muscle Performance | | |
| Clinical Aromatherapist Level 2 | 10.5 Types of Muscle Fibers | | |
| Clinical Aromatherapist Level 2 | 10.4 Nervous System Control of Muscle Tension | | |
| Clinical Aromatherapist Level 2 | 10.3 Muscle Fiber Excitation, Contraction, and Relaxation | | |
| Clinical Aromatherapist Level 2 | 10.2 Skeletal Muscle | | |
| Clinical Aromatherapist Level 2 | 10.1 Overview of Muscle Tissues | | |
| Clinical Aromatherapist Level 2 | Module 10. Muscle Tissue | | |
| Clinical Aromatherapist Level 2 | 9.7 Development of Joints | | |
| Clinical Aromatherapist Level 2 | 9.6 Anatomy of Selected Synovial Joints | | |
| Clinical Aromatherapist Level 2 | 9.5 Types of Body Movements | | |
| Clinical Aromatherapist Level 2 | 9.4 Synovial Joints | | |
| Clinical Aromatherapist Level 2 | 9.3 Cartilaginous Joints | | |
| Clinical Aromatherapist Level 2 | 9.2 Fibrous Joints | | |
| Clinical Aromatherapist Level 2 | 9.1 Classification of Joints | | |
| Clinical Aromatherapist Level 2 | Module 9. Joints | | |
| Clinical Aromatherapist Level 2 | 8.5 Development of the Appendicular Skeleton | | |
| Clinical Aromatherapist Level 2 | 8.4 Bones of the Lower Limb | | |
| Clinical Aromatherapist Level 2 | 8.3 The Pelvic Girdle and Pelvis | | |
| Clinical Aromatherapist Level 2 | 8.2 Bones of the Upper Limb | | |
| Clinical Aromatherapist Level 2 | 8.1 The Pectoral Girdle | | |
| Clinical Aromatherapist Level 2 | Module 8. The Appendicular Skeleton | | |
| Clinical Aromatherapist Level 2 | 7.6 Embryonic Development of the Axial Skeleton | | |
| Clinical Aromatherapist Level 2 | 7.5 The Thoracic Cage | | |
| Clinical Aromatherapist Level 2 | 7.4 The Vertebral Column | | |
| Clinical Aromatherapist Level 2 | 7.3 The Skull | | |
| Clinical Aromatherapist Level 2 | 7.2 Bone Markings | | |
| Clinical Aromatherapist Level 2 | 7.1 Divisions of the Skeletal System | | |
| Clinical Aromatherapist Level 2 | Module 7. Axial Skeleton | | |
| Clinical Aromatherapist Level 2 | 6.7 Calcium Homeostasis: Interactions of the Skeletal System and Other Organ Systems | | |
| Clinical Aromatherapist Level 2 | 6.6 Exercise, Nutrition, Hormones, and Bone Tissue | | |
| Clinical Aromatherapist Level 2 | 6.5 Fractures: Bone Repair | | |
| Clinical Aromatherapist Level 2 | 6.4 Bone Formation and Development | | |
| Clinical Aromatherapist Level 2 | 6.3 Bone Structure | | |
| Clinical Aromatherapist Level 2 | 6.2 Bone Classification | | |
| Clinical Aromatherapist Level 2 | 6.1 The Functions of the Skeletal System | | |
| Clinical Aromatherapist Level 2 | Module 6. Bone Tissue and the Skeletal System | | |
| Clinical Aromatherapist Level 2 | 5.9 Diseases, Disorders, and Injuries of the Integumentary System | | |
| Clinical Aromatherapist Level 2 | 5.8 Functions of the Integumentary System | | |
| Clinical Aromatherapist Level 2 | 5.7 Accessory Structures of the Skin | | |
| Clinical Aromatherapist Level 2 | 5.6 Layers of the Skin | | |
| Clinical Aromatherapist Level 2 | 5.5 Hydrosols | | |
| Clinical Aromatherapist Level 2 | 5.3 Essential Oils for Various Skin Conditions | | |
| Clinical Aromatherapist Level 2 | 5.4 Vegetable & Seed Oils | | |
| Clinical Aromatherapist Level 2 | 5.2 What is an Adverse effect from using oils? | | |
| Clinical Aromatherapist Level 2 | 5.1 Skin – Integumentary System Diseases | | |
| Clinical Aromatherapist Level 2 | Module 5.The Integumentary System | | |
| Clinical Aromatherapist Level 2 | 4.6 Tissue Injury and Aging | | |
| Clinical Aromatherapist Level 2 | 4.5 Nervous Tissue | | |
| Clinical Aromatherapist Level 2 | 4.4 Muscle Tissue | | |
| Clinical Aromatherapist Level 2 | 4.3 Connective Tissue Supports and Protects | | |
| Clinical Aromatherapist Level 2 | 4.2 Epithelial Tissue | | |
| Clinical Aromatherapist Level 2 | 4.1 Types of Tissues | | |
| Clinical Aromatherapist Level 2 | Module 4. The Tissue Level of Organization | | |
| Clinical Aromatherapist Level 2 | 3.6 Cellular Differentiation | | |
| Clinical Aromatherapist Level 2 | 3.5 Cell Growth and Division | | |
| Clinical Aromatherapist Level 2 | 3.4 Protein Synthesis | | |
| Clinical Aromatherapist Level 2 | 3.3 The Nucleus and DNA Replication | | |
| Clinical Aromatherapist Level 2 | 3.2 The Cytoplasm and Cellular Organelles | | |
| Clinical Aromatherapist Level 2 | 3.1 The Cell Membrane | | |
| Clinical Aromatherapist Level 2 | Module 3. The Cellular Level of Organization | | |
| Clinical Aromatherapist Level 2 | 2.5 Organic Compounds Essential to Human Functioning | | |
| Clinical Aromatherapist Level 2 | 2.4 Inorganic Compounds Essential to Human Functioning | | |
| Clinical Aromatherapist Level 2 | 2.3 Chemical Reactions | | |
| Clinical Aromatherapist Level 2 | 2.2 Chemical Bonds | | |
| Clinical Aromatherapist Level 2 | 2.1 Elements and Atoms: The Building Blocks of Matter | | |
| Clinical Aromatherapist Level 2 | Module 2. The Chemical Level of Organization | | |
| Clinical Aromatherapist Level 2 | 1.5 Medical Imaging | | |
| Clinical Aromatherapist Level 2 | 1.4 Anatomical Terminology | | |
| Clinical Aromatherapist Level 2 | 1.3 Homeostasis | | |
| Clinical Aromatherapist Level 2 | 1.2 Structural Organization of the Human Body | | |
| Clinical Aromatherapist Level 2 | 1.1 How Structure Determines Function | | |
| Clinical Aromatherapist Level 2 | Module 1. Introduction to the Human Body | | |
| Clinical Aromatherapist Level 2 | Doctrine of Signatures | | |
| Clinical Aromatherapist Level 2 | Blending By Aromatic Group | | |
| Clinical Aromatherapist Level 2 | Setting Up Your Workspace | | |
| Clinical Aromatherapist Level 2 | Blending by Note | | |
| Clinical Aromatherapist Level 2 | How to select oils for a Blend | | |
| Clinical Aromatherapist Level 2 | Blending Tips | | |
| Clinical Aromatherapist Level 2 | Module Seven: Blending Techniques | | |
| Clinical Aromatherapist Level 2 | Useful Recipes /Formulas | | |
| Clinical Aromatherapist Level 2 | Ebers – Module Six: Methods Of Application | | |
| Clinical Aromatherapist Level 2 | Oxides | | |
| Clinical Aromatherapist Level 2 | Coumarins -Furocoumarins | | |
| Clinical Aromatherapist Level 2 | Ketones | | |
| Clinical Aromatherapist Level 2 | Aldehydes | | |
| Clinical Aromatherapist Level 2 | Esters | | |
| Clinical Aromatherapist Level 2 | Phenols | | |
| Clinical Aromatherapist Level 2 | Oxygenated Hydrocarbons – Sesquiterpenols Alcohols | | |
| Clinical Aromatherapist Level 2 | Oxygenated Hydrocarbons – Monoterpene Alcohols | | |
| Clinical Aromatherapist Level 2 | Sesquiterpenes | | |
| Clinical Aromatherapist Level 2 | Monoterpenes | | |
| Clinical Aromatherapist Level 2 | Chemical Families | | |
| Clinical Aromatherapist Level 2 | Module Five Essential oils Chemistry | | |
| Clinical Aromatherapist Level 2 | GCMS Analysis Sample | | |
| Clinical Aromatherapist Level 2 | Ylang Ylang – Cananga odorata forma genuina (Lam.) | | |
| Clinical Aromatherapist Level 2 | Tea Tree – Melaleuca alternifolia | | |
| Clinical Aromatherapist Level 2 | Sweet Orange – Citrus sinensis var pera Citrus aurantium | | |
| Clinical Aromatherapist Level 2 | Rosemary – Rosmarinus officinalis | | |
| Clinical Aromatherapist Level 2 | Roman Chamomile – Chamaemelum nobile L. | | |
| Clinical Aromatherapist Level 2 | Peppermint – Mentha x piperita | | |
| Clinical Aromatherapist Level 2 | Patchouli – Pogostemon cablin (Blanco) Benth | | |
| Clinical Aromatherapist Level 2 | Marjoram – Origanum marjorana | | |
| Clinical Aromatherapist Level 2 | Lemon – Citrus limon | | |
| Clinical Aromatherapist Level 2 | Lavender – Lavandula angustifolia | | |
| Clinical Aromatherapist Level 2 | Juniper Berry – Juniperus Communis | | |
| Clinical Aromatherapist Level 2 | Jasmine – Jasminum grandiflorum L. | | |
| Clinical Aromatherapist Level 2 | Helichrysum – Helichrysum italicum | | |
| Clinical Aromatherapist Level 2 | Pink Grapefruit – Citrus × paradisi Macafady | | |
| Clinical Aromatherapist Level 2 | Geranium – Pelargonium graveolens | | |
| Clinical Aromatherapist Level 2 | Frankincense – Boswellia sacra | | |
| Clinical Aromatherapist Level 2 | Eucalyptus – Eucalyptus globulus | | |
| Clinical Aromatherapist Level 2 | Cypress – Cupressus sempervirens and Cupressus macrocarpa | | |
| Clinical Aromatherapist Level 2 | Clary Sage – Salvia sclarea | | |
| Clinical Aromatherapist Level 2 | Sweet Basil – Ocimum basilicum L | | |
| Clinical Aromatherapist Level 2 | Module Four: Essential oils Data Sheets – Monographs | | |
| Clinical Aromatherapist Level 2 | Module Three : Essential oils Quality and Safety | | |
| Clinical Aromatherapist Level 2 | Topical Use Precautions | | |
| Clinical Aromatherapist Level 2 | Equipment Used In Aromatherapy | | |
| Clinical Aromatherapist Level 2 | What is Sensitization? | | |
| Clinical Aromatherapist Level 2 | Extraction Methods | | |
| Clinical Aromatherapist Level 2 | Common and Botanical Names | | |
| Clinical Aromatherapist Level 2 | Plant Structure and the Oil Cell | | |
| Clinical Aromatherapist Level 2 | Aromatic Families | | |
| Clinical Aromatherapist Level 2 | The Role of Botany in Aromatherapy | | |
| Clinical Aromatherapist Level 2 | Module Two: Botany and Aromatherapy | | |
| Clinical Aromatherapist Level 2 | Module One: History of Aromatherapy | | |
| Clinical Aromatherapist Level 2 | What Is Aromatherapy? | | |
| Clinical Aromatherapist Level 2 | Aromatherapy Consultation Forms/ Intake forms | | |
| Clinical Aromatherapist Level 2 | Health Disclaimer | | |
| Clinical Aromatherapist Level 2 | Glossary – Essential Oil Terminology | | |
| Clinical Aromatherapist Level 2 | Case Studies | | |
| Clinical Aromatherapist Level 2 | Research Paper Guidelines | | |
| Clinical Aromatherapist Level 2 | Assignments | | |
| Clinical Aromatherapist Level 2 | Class Supplies List | | |
| Clinical Aromatherapist Level 2 | Course Overview | | |
| Clinical Aromatherapist Level 2 | Orientation | | |
| Clinical Aromatherapist Level 2 | Welcome | | |
| Certified Aromatherapist Level 1 | Aromatherapy Business Practice | | |
| Free Introduction to Aromatherapy | Essential oils profiles- ITA | | |
| Free Introduction to Aromatherapy | Essential oils Profiles- Helichrysum ITA | | |
| Free Introduction to Aromatherapy | Essential oil Safety - ITA | | |
| Free Introduction to Aromatherapy | Health Disclaimer - ITA | | |
| Free Introduction to Aromatherapy | Welcome ITA | | |
| Free Introduction to Aromatherapy | A Gift For You - ITA | | |
| Free Introduction to Aromatherapy | Jojoba - ITA | | |
| Free Introduction to Aromatherapy | Recipes & Formulations - ITA | | |
| Free Introduction to Aromatherapy | Argan oil - ITA | | |
| Free Introduction to Aromatherapy | Carrier Oils - ITA | | |
| Free Introduction to Aromatherapy | Essential oils Profiles - Frankincense ITA | | |
| Free Introduction to Aromatherapy | Essential oils Profiles - Geranium - ITA | | |
| Free Introduction to Aromatherapy | Essential oils profiles - Lemon- ITA | | |
| Free Introduction to Aromatherapy | Essential oils profiles - Basil- ITA | | |
| Certified Aromatherapist Level 1 | Bonus - Advanced Level 2 The Integumentary system - Skin | | |
| Certified Aromatherapist Level 1 | Thank you | | |
| Certified Aromatherapist Level 1 | Resources | | |
| Certified Aromatherapist Level 1 | NAHA CODE OF ETHICS | | |
| Certified Aromatherapist Level 1 | Aromatic Break | | |
| Certified Aromatherapist Level 1 | Yoga | | |
| Certified Aromatherapist Level 1 | Essential Oils for Muscular System Diseases | | |
| Certified Aromatherapist Level 1 | Muscular System Diseases | | |
| Certified Aromatherapist Level 1 | Ebers – Module Eleven Muscular System | | |
| Certified Aromatherapist Level 1 | Aromatic Break | | |
| Certified Aromatherapist Level 1 | Essential Oils for Respiratory Conditions | | |
| Certified Aromatherapist Level 1 | Respiratory System Diseases | | |
| Certified Aromatherapist Level 1 | Module Ten : Respiratory System | | |
| Certified Aromatherapist Level 1 | Aromatic Break | | |
| Certified Aromatherapist Level 1 | Chakras | | |
| Certified Aromatherapist Level 1 | Essential Oils for Stress | | |
| Certified Aromatherapist Level 1 | Module Nine: Nervous System | | |
| Certified Aromatherapist Level 1 | Aromatic Break | | |
| Certified Aromatherapist Level 1 | Hydrosols | | |
| Certified Aromatherapist Level 1 | Vegetable & Seed Oils | | |
| Certified Aromatherapist Level 1 | Essential Oils for Various Skin Conditions | | |
| Certified Aromatherapist Level 1 | What is an Adverse effect from using oils? | | |
| Certified Aromatherapist Level 1 | Skin – Integumentary System Diseases | | |
| Certified Aromatherapist Level 1 | Module Eight: The Skin | | |
| Certified Aromatherapist Level 1 | Doctrine of Signatures | | |
| Certified Aromatherapist Level 1 | Aroma Wheel - Fragrance Wheel | | |
| Certified Aromatherapist Level 1 | Setting Up Your Workspace | | |
| Certified Aromatherapist Level 1 | Fragrance Notes | | |
| Certified Aromatherapist Level 1 | How to select oils for a Blend | | |
| Certified Aromatherapist Level 1 | Blending Tips | | |
| Certified Aromatherapist Level 1 | Module Seven: Blending Techniques | | |
| Certified Aromatherapist Level 1 | Useful Recipes /Formulas | | |
| Certified Aromatherapist Level 1 | Ebers – Module Six: Methods Of Application | | |
| Certified Aromatherapist Level 1 | Oxides | | |
| Certified Aromatherapist Level 1 | Coumarins -Furocoumarins | | |
| Certified Aromatherapist Level 1 | Ketones | | |
| Certified Aromatherapist Level 1 | Aldehydes | | |
| Certified Aromatherapist Level 1 | Esters | | |
| Certified Aromatherapist Level 1 | Phenols | | |
| Certified Aromatherapist Level 1 | Oxygenated Hydrocarbons – Sesquiterpenols Alcohols | | |
| Certified Aromatherapist Level 1 | Oxygenated Hydrocarbons – Monoterpene Alcohols | | |
| Certified Aromatherapist Level 1 | Sesquiterpenes | | |
| Certified Aromatherapist Level 1 | Monoterpenes | | |
| Certified Aromatherapist Level 1 | Chemical Families | | |
| Certified Aromatherapist Level 1 | Module Five: Chemistry | | |
| Certified Aromatherapist Level 1 | GCMS Analysis Sample | | |
| Certified Aromatherapist Level 1 | Ylang Ylang – Cananga odorata forma genuina (Lam.) | | |
| Certified Aromatherapist Level 1 | Tea Tree – Melaleuca alternifolia | | |
| Certified Aromatherapist Level 1 | Sweet Orange – Citrus sinensis var pera Citrus aurantium | | |
| Certified Aromatherapist Level 1 | Rosemary – Rosmarinus officinalis | | |
| Certified Aromatherapist Level 1 | Roman Chamomile – Chamaemelum nobile L. | | |
| Raghda Abdelmaksoud | Peppermint – Mentha x piperita | | |
| Certified Aromatherapist Level 1 | Patchouli – Pogostemon cablin (Blanco) Benth | | |
| Certified Aromatherapist Level 1 | Marjoram – Origanum marjorana | | |
| Certified Aromatherapist Level 1 | Lemon – Citrus limon | | |
| Certified Aromatherapist Level 1 | Lavender – Lavandula angustifolia | | |
| Certified Aromatherapist Level 1 | Juniper Berry – Juniperus Communis | | |
| Certified Aromatherapist Level 1 | Jasmine – Jasminum grandiflorum L. | | |
| Certified Aromatherapist Level 1 | Helichrysum – Helichrysum italicum | | |
| Certified Aromatherapist Level 1 | Geranium – Pelargonium graveolens | | |
| Certified Aromatherapist Level 1 | Pink Grapefruit – Citrus × paradisi Macafady | | |
| Certified Aromatherapist Level 1 | Frankincense – Boswellia sacra | | |
| Certified Aromatherapist Level 1 | Eucalyptus – Eucalyptus globulus | | |
| Certified Aromatherapist Level 1 | Cypress – Cupressus sempervirens and Cupressus macrocarpa | | |
| Certified Aromatherapist Level 1 | Clary Sage – Salvia sclarea | | |
| Certified Aromatherapist Level 1 | Sweet Basil – Ocimum basilicum L | | |
| Certified Aromatherapist Level 1 | Module Four: Essential oils Data Sheets – Monographs | | |
| Certified Aromatherapist Level 1 | Equipment Used In Aromatherapy | | |
| Certified Aromatherapist Level 1 | What is Sensitization? | | |
| Certified Aromatherapist Level 1 | Topical Use Precautions | | |
| Certified Aromatherapist Level 1 | Module Three : Essential oil Quality and Safety | | |
| Certified Aromatherapist Level 1 | Extraction Methods | | |
| Certified Aromatherapist Level 1 | Common and Botanical Names | | |
| Certified Aromatherapist Level 1 | Plant Structure and the Oil Cell | | |
| Certified Aromatherapist Level 1 | The Role of Botany in Aromatherapy | | |
| Certified Aromatherapist Level 1 | Aromatic Families | | |
| Certified Aromatherapist Level 1 | Module Two: Botany and Aromatherapy | | |
| Certified Aromatherapist Level 1 | What Is Aromatherapy? | | |
| Certified Aromatherapist Level 1 | Module One: History of Aromatherapy | | |
| Certified Aromatherapist Level 1 | Glossary – Essential Oil Terminology | | |
| Certified Aromatherapist Level 1 | Health Disclaimer | | |
| Certified Aromatherapist Level 1 | Aromatherapy Consultation Forms/ Intake forms | | |
| Certified Aromatherapist Level 1 | Case Studies | | |
| Certified Aromatherapist Level 1 | Coaching Sessions | | |
| Certified Aromatherapist Level 1 | Research Paper Guidelines | | |
| Certified Aromatherapist Level 1 | Assignments | | |
| Certified Aromatherapist Level 1 | Class Supplies List | | |
| Certified Aromatherapist Level 1 | Course Overview | | |
| Certified Aromatherapist Level 1 | Welcome | | |
| Certified Aromatherapist Level 1 | Orientation | | |
My name is Raghda Abdelmaksoud, my expertise goes back to 25 years of global experience working in the essential oils , medicinal herbs and flavors and fragrance industries, I worked as a Global Business Development Manager in both in Egypt and USA, which gives me a strong background in global supply chain, sustainable sourcing business development, quality control and project management. in addition to travelling to more than 21 countries to visit distilleries , farms, factories and laboratories
I serve as the NAHA International Relationship Committee Chair & NAHA Director for Egypt, in addition to being a level 3 Advanced Clinical Certified Aromatherapist, and the founder of Ebers School of Aromatherapy& Ebers consulting LLC located in New Jersey USA.
My passion for the industry was a driving power to a beautiful journey, after many years of corporate jobs I decided to start my own business in the Aromatherapy ,I was very lucky to have both worlds and to meet people from different parts of the world but it was time to follow my dream .
My goal is to educate many people on the beauty of Aromatherapy and help them change their lives and start a new path in their lives where we can heal our mind body and soul .