Raghda Abdelmaksoud
Raghda Abdelmaksoud is a Certified Clinical Aromatherapist, Global expert with 25 years of experience in business development and supply chain in the medicinal herbs, flavors, and fragrance, and essential oils industries, she holds a degree in English Literature and Arts from Cairo University, in addition to Project Management from Cambridge and Supply Chain from UCC, USA.
Raghda is the founder and managing director of Ebers school of Aromatherapy dedicated to teaching aromatherapy, perfumery, and Herbal medicine in Egypt and USA, in addition to arranging Aromatherapy study tours. Ebers consulting is dedicated to essential oils ethical sourcing business development, logistics and warehousing services.
Raghda' s mission is to develop Aromatherapy in the middle east and Arabic-speaking countries as well as developing women-owned small businesses.
She also serves as the NAHA Egypt Director & International relationship chair.
Raghda believes that Plants are a universal language that connects us all, they are the agents of nature for our healing journey and a living example of hope.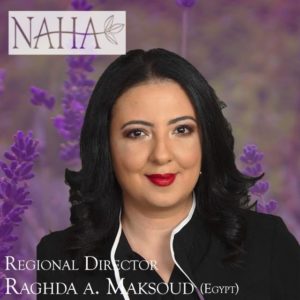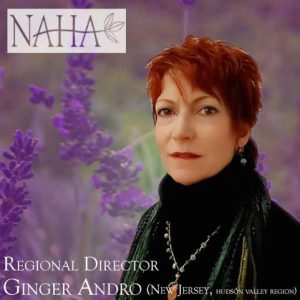 Ginger Andro
Hello My name is Ginger Andro a certified Aromatherapist, the NAHA Regional Director of New Jersey (Hudson Valley Region), Secretary of the Lower Hudson Valley Chapter of the America.
Herbalist Guild and is a partner in Kiki and Friends Aromatics.
I am a registered Spiritual Phyto Essencing Practitioner, an Animal Aromatherapist and has a certification in EFT (tapping) and studied Animal Acupressure.
I also has a BA in Fine Art and a certification in Natural Perfumery.
And believes that essential oils are a beautiful medium that encourages emotional healing, communication and aesthetic expression.
I am here to share my knowledge with you as an artist, educator and lover of animals and someone passionate for science and art.
FAQ About Our Classes
Is this Course for me ?
Anyone who want to learn more about aromatherapy course or searching for a way to enhance, improve or maintain their health naturally. From a professional standpoint, this list includes Health Care Practitioners such as Nurses, Midwives, Chiropractors, Psychologists, Psychotherapists, Physical Therapists, homemakers, Teachers, Pastors, Counselors, and Cosmetologists. Other practices such as Holistic Therapists such as Therapeutic Touch Practitioners, Massage Therapists, Reflexologists, and Reiki Practitioners would also benefit and enhance their practice.
How many hours is Level 1?
Level 1 is 75 hours online.
What is Aromatherapy used for?
Aromatherapy refers to the inhalation and topical application of pure essential oils distilled from aromatic plants to restore or enhance mind, body, soul and well-being. For some this means simply diffusing oils to enhance the psyche; while for others this includes seeking deeper, therapeutic action as a means of self-healing or as a preventative method.
Will I have support during the course ?
Yes, there is four zoom coaching sessions included in the price your Lead instructor who has 25 years experience and a NAHA director will always be there for you to support you during and after the course.
What can a certified Aromatherapist do?
Enhance holistic knowledge, start a new Aromatherapy career teaching or selling essential oils , use essential oils safely and Create natural products for you and your family and use them safely.
What do I do if I need Support or Immediate Help?
We are always here for you. Our lead Instructor and our certified Clinical Aromatherapist will always be in direct contact with you. Please send us an email and your emails will be answered immediately within 24 hours, 732-210-0578, you can also reach me via Facebook page https://www.facebook.com/ebersaromatherapy/ We will have coaching sessions throughout the Certification program for support. You can also fill out the form at the top right-hand side of this page with your name, email, and question or the problem you are experiencing and someone will answer you shortly.
Do you offer Continuing Education Units or Credits?
Yes, we are approved for CEU's credits through NAHA.org.
When I take your course, will I be able to call myself a Certified Aromatherapist?
From a NAHA approved school, for the certification issued from NAHA you will need to present your certification to NAHA & apply for membership https://naha.org/membership/become-a-member/ once you complete the Level 1 Aromatherapy Certification Program you can call yourself a Certified Level 1 Aromatherapist or Aromatherapy Practitioner. Your certificate will show the designated hours for that course.
What Payment Methods do you accept for your Aromatherapy course or Classes and products?
You may pay for your course online in full or monthly. PayPal, MasterCard or Visa,  debit cards, or PayPal Bill pay services.