Meet Your Aromatherapy Instructors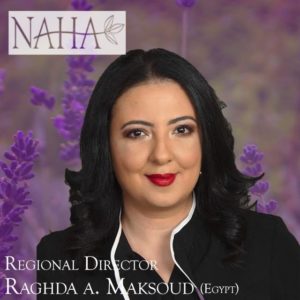 My name is Raghda Abdelmaksoud, my expertise goes back to 25 years of global experience working in the essential oils , medicinal herbs and  flavors and fragrance industries, I worked as a Global Business Development Manager in both in Egypt and USA, which gives me a strong background in global supply chain, sustainable sourcing  business development, quality control and project management. in addition to travelling to more than 21 countries to visit distilleries , farms, factories and laboratories 
I serve as the NAHA International Relationship Committee Chair & NAHA Director for Egypt, in addition to being a level 3  Advanced Clinical Certified Aromatherapist, and the founder of Ebers School of Aromatherapy& Ebers consulting LLC located in New Jersey USA.
My passion for the industry was a driving power to a beautiful journey, after many years of corporate jobs I decided to start my own business in the Aromatherapy ,I was very lucky to have both worlds and to meet people from different parts of the world but it was time to follow my dream .
My goal  is to educate many people on the beauty of Aromatherapy and  help them  change their lives and start a new path in their lives where we can heal our mind body and soul . 
Love,
Raghda Abdelmaksoud
Hello My name is Ginger Andro  a certified Aromatherapist, the NAHA Regional Director of New Jersey
(Hudson Valley Region), Secretary of the Lower Hudson Valley Chapter of the America
Herbalist Guild and is a partner in Kiki and Friends Aromatics.
I am  a registered Spiritual Phyto Essencing Practitioner, an Animal Aromatherapist
and has a certification in EFT (tapping) and studied Animal Acupressure.
I  also has a BA in Fine Art and a certification in Natural Perfumery.
And believes that essential oils are a beautiful medium that encourages emotional healing, communication and aesthetic expression.
I am here to share my knowledge with you as  an artist, educator and lover of animals and someone passionate  for science and art.
Love 
Ginger Andro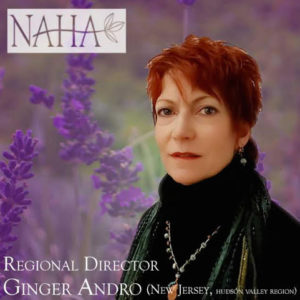 Our approach is quite different, yet very informative.
Our Level 1 Certified Aromatherapist course
was designed for individuals with interest in learning the fundamental practices of aromatherapy and seek to become qualified in the therapeutic uses of essential oils and build up a profession in Natural Plant Based products.
We built our curriculum very carefully
with a lot of details and information to make it extremely easy and fun to learn, 75 hours of education supported with videos, games, and quizzes .
You will have a  4 hours of free
live coaching sessions along the course to guide, support and explain any thing you want to ask about.
Once you finish your certification,
we will have 101 career consultation session, together we'll discuss your career story and create an action plan to set you on the right direction.